Back with my Powertex uniform on…well not so much a uniform as my painting clothes! Powertex is designed to make fabric hard so obviously it does exactly that, not so great in your favourite jeans. My 'out of the frame' pieces have been so popular and the course is filling up so I have produced another sample to entice you.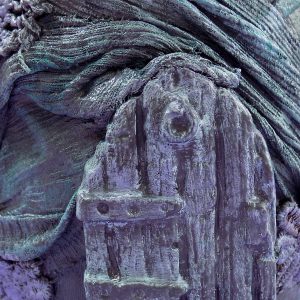 My fantasy house is made from a large pickle jar. I love the way this great product lets me upcycle so many things. I start with a design idea – where will the windows and door go, do I need a chimney? After some very careful wrapping, using t shirt yarn that I make with my trusty rotary cutter, I am ready to Powertex. A firm brushing embeds the Powertex into the yarn and forms a great base to build on.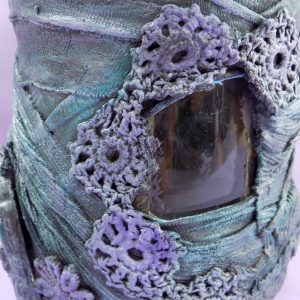 An hour later I have a quirky, individual roof for my house, the door is attached and the window frames are ready for some titivation. Old lace or crocheted doilies are spot on for this part of the project. A little drying time and my house is ready for colour. Today's decoration is teal and purple but Powertex can be coloured in lots of different combinations.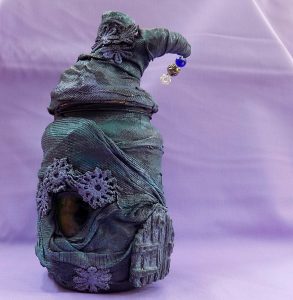 Why not come along and make your own? Your house could soon be living at the end of the garden for the local fairy population, or go darker and make it appeal to some hobgoblins, perfect for the Halloween doorstep. Because my houses are built around a jar, just add some battery powered fairy lights for a whole new effect.
Next project is a seated figure. Perfect for a spot in the garden. Best get my thinking cap on.
Join Purple Boots for her Fantasy House workshop on Wednesday 29th November.