I have been guilty of some skip diving this week! I was invited though. A friend is clearing her house ready to move and I have come away with a bag of t-shirts a stack of picture frames and all sorts of other bits and bobs to recycle into Powertex wonders. She was even throwing out some Christmas decorations so that's got my head thinking of a 'Christmas in a day' class where we will use a range of techniques to create a set of Christmas items to include a wreath, a bauble and a decoration of some sort. Its all whirling around in my head but first….figures!
I have had a LOT of fun over the Easter break working with my daughter on some new Powertex ideas. I have also been trying hard to come up with a way to use Powertex that doesn't involve getting covered in it. I personally love the feeling of working with my hands covered and daubs on my cheeks but I know its not for everyone. Watch out for an amazing Seahorse class. This project can be created with a brush. I can't guarantee NO MESS but there will be less.
So my daughter and I created the Raggedy Eared Hare which will be coming to a Tudor Rose Classroom in the autumn. Here's a cheeky peek of his little face!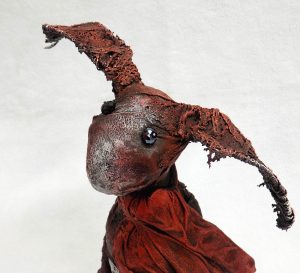 More about him later though.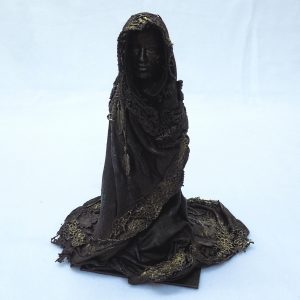 In the coming months I have three classes which will teach you how to make beautiful sculptures for you gardens just in time for a few days of the British summer. I have created a seated figure that would look superb amongst your flower beds or kneeling by a tree. I also have a standing figure class which could be a Halloween sculpture too if witches and ghouls are your thing.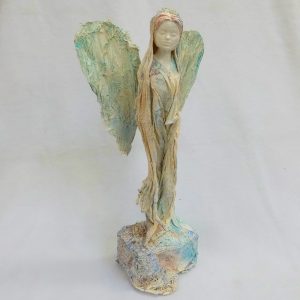 The last of my new classes is the Fantastic Fairy. You may have seen my Bronzed angel in the store last year, well my fairy is a more delicate version of  the angel and is currently sitting on top of our display cabinets guarding the coffee shop.
We will be using ivory Powertex and subtle colours to highlight all of the gorgeous textures in the fabrics that make the figure.
Why not come along and have a calm day making with all of the mess cleared away by yours truly? One of our lovely customers told me her most recent class was the most relaxed she has been in ages which is exactly how I would like you all to feel after a day in the studio. What's stopping you?