PIXIE DUST (NOUN) A substance or influence with an apparently magical effect that brings great success or luck. Origin: 1950's. From the magic dust that enabled humans to fly in J. M. Barrie's Peter Pan
PIXIE DUST (NOUN)
A substance or influence with an apparently magical effect that brings great success or luck.
Origin: 1950's. From the magic dust that enabled humans to fly in J. M. Barrie's Peter Pan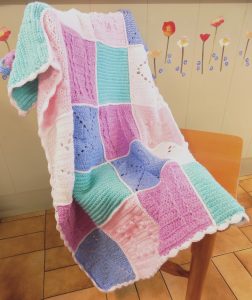 We're so excited to be announcing our very first Crochet Along! We will be officially launching for The Festival Of Quilts at Birmingham NEC from 10th – 13th August (we're on Stand E3), but you can sign-up online now ready to receive your first installment on 15th August. When you buy the bundle at the special price of £20.00 you will receive a free pattern every following 2 weeks for 10 weeks. The end result is an adorable baby blanket or throw, use it in the pram, pushchair or car seat.
The blanket is made in the beautiful, soft Peter Pan Pixie yarn. The patterns are aimed at beginners and build each week on the skills you learnt the week before. However, this is a simple pleasure for the more experienced crocheter.
The pattern is utterly flexible, you could change the colours, increase the size, change the yarn. Make it for a friend, a child, a teenager, an elderly aunt…
You will need a 3.5mm crochet hook, scissors and a knitter's needle, and the size of the finished throw is approximately 91.5 x 68.5 cm (36 x 27″).
Sign up and join in here: Pixie Dust CAL