30% OFF Mrs March's Collection in Antique by Lecien These beautiful fabrics capture the feel of antique fabrics in wonderful soft colours and delicate floral designs NOW only £9.66 per metre  Offer ends 13.3.2018 Click Here
30% OFF
Mrs March's Collection in Antique by Lecien
These beautiful fabrics capture the feel of antique fabrics in wonderful soft colours and delicate floral designs
NOW only £9.66 per metre 
Offer ends 13.3.2018
15% OFF
Adriafil Asterix Chunky 
Adriafil Asterix has a charming structure which is slightly flamed, where the solid colour base is interrupted by multicolour sections which gives movement to the surface of the garment, without using any particular knitting technique.
The alpaca component makes the yarn even more soft and comfortable.
NOW only £3.23 per 50g Ball 
Offer ends 13.3.2018
Janome – Brand of the Year 2018
Product of the Year Award Winner
Model DKS 100 SE
Was £529.00 Now Only £479.00
plus FREE JQ6 Quilting Kit (worth £119.00)
Perfect Machine for all types of Sewing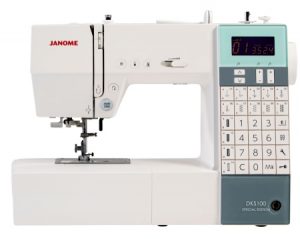 New Kits…….. using Glitter Film
Choose from 4 Designs – only £4.50 each
Cute little kits from Tudor Rose Patchwork, this mug rug or fabric coaster kit, incorporates basic quilting and applique techniques using fabric and the amazing heat applied glitter film. Perfect for beginners, can be sewn by hand or machine.
The kit includes wadding, fabric, glitter film, pattern and instructions.  All you'll need is a basic sewing kit, thread and an iron.