Join us in-store at Tudor Rose Patchwork to Celebrate Sewing Week 30th September to 5th October 2019 For the past 4 years Sew Saturday has been a one-day event. This year it has been developed
Join us in-store at Tudor Rose Patchwork to Celebrate Sewing Week 30th September to 5th October 2019
For the past 4 years Sew Saturday has been a one-day event. This year it has been developed into a whole week of all things stitchery, as well as our regular workshops and classes check out below at what's happening in-store……..
Motivational Monday: 10% OFF Cross Stitch & Embroidery Kits plus FREE Floral Cushion Pattern*                                                                                     Janome 725S was £299 valid today only (30.9.19) £233
Pattern Tuesday: 10% OFF Tudor Rose Patchwork Patterns plus FREE Midi Skirt Pattern*                                                                                        Janome360DC was £379 valid today only (1.10.19) £296  
Workshop Wednesday: 2 for 1 Offer on Selected Workshop/Classes* plus FREE Flower Power Tote Pattern*                                                 Janome M50 QDC was £539 valid today only (2.10.19) £431  
Discount Thursday: 10% OFF Dressmaking Fabrics plus FREE Handy Satchel Pattern*                                                                                                       Janome RE3300 Special Price £299 valid today only (3.10.19) £296  
Fat Quarter Friday: 10% OFF Fat Quarters plus FREE Fat Quarter Lap Blanket Pattern* Janome Atelier 6 was £1,099 valid today only (4.10.19) £809
Sew Saturday: Sample Items & Remnant Sale plus FREE Hot Drink Voucher for O for Coffee                                                                                               Janome Embroidery Quilt Maker was £7,499 valid today only (5.10.19) £5,999  
In support of Sew Magazines SEWING WEEK campaign Janome have some very special DAILY savings! Each day they have chosen a different model at special discounted prices, plus during Sewing Week ONLY they are offering discounts on all spares and accessories with the exception of software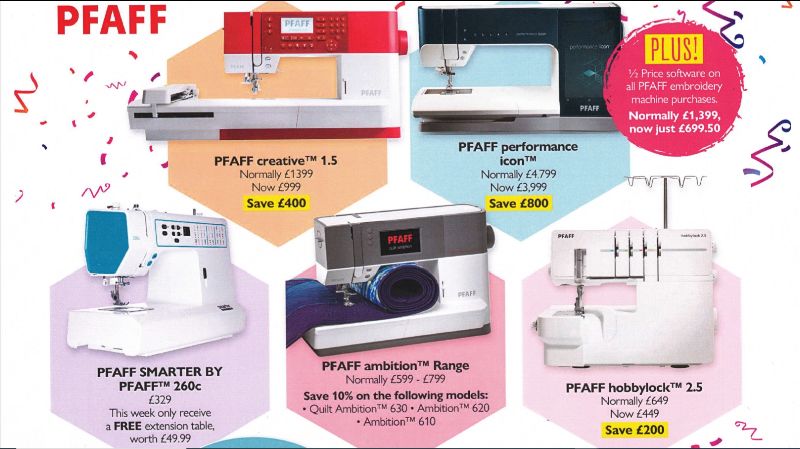 We also have offers on Pfaff Machines valid 30/9 to 5/10 2019 see special offers on machines section on website, all offers have limited availability so please give us a call for more information or to book a demonstration. 
* FREE patterns require a minimum spend of £10.00, 2 for 1 Classes/Workshops require 1 of the attendees to be new to the group
Up to 30% OFF
Selected Fabric, Panels & Yarn 
 Valid: 24th September to 8th October 2019 *

Plus 30% off Rugby and Kona Bay panels, AND 20% off Adriafil's WoCa hemp yarn and patterns!!
* Unless different date specified
Offers subject to stock availability