I n the Spring I popped in my newest sample to the shop – Raggedy Eared Hare. He's a cheeky wee chap with a jaunty scarf and beautifully textured ears caught in the wind. He
I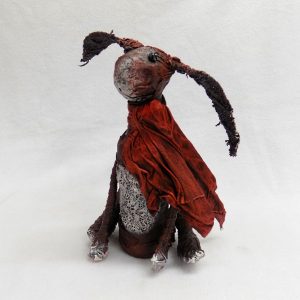 n the Spring I popped in my newest sample to the shop – Raggedy Eared Hare. He's a cheeky wee chap with a jaunty scarf and beautifully textured ears caught in the wind. He proved so popular in the office that we had to add an extra session in for all of the staff and tutors to have a go.
It was a great day and at the end of it, as you can see, each hare is totally individual with little tweaks such as straw hats and bows in their hair.
Joy wasn't very happy with the colour she created on her scarf and we couldn't have her going home disappointed so we worked together to redo the colouring – this is actually really easy to do and one of the many wonders of Powertex.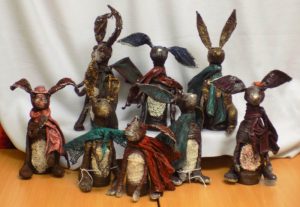 I wonder if any of the hares have found their final homes on doorsteps and beside flowerbeds yet?
Purple Boots x